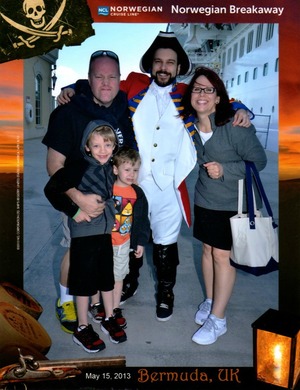 Last month, my family and I were lucky enough to sail away on the Inaugural Cruise of the NEW Norwegian Breakaway.  We sailed out of Pier 88 in NYC on a 7 day cruise to Bermuda.  We have been on several cruises as a family, but I was excited to experience this amazing new ship and all it had to offer for families.
I have a lot to share with you all so I am going to break up my review.  Since at Adventures By Kim our mission is to help families relax, reconnect and make memories to last forever. I am going to start with one of the top attractions for kids and for my boys, that means the Kids Club, Splash Academy
Splash Academy
Norwegian has recently updated and revamped their entire youth program. I have to say my boys had a great time and really wanted to spend most of their time here.  As well, the staff was great and very interactive with the kids. Splash Academy, is divided in to 4 age groups. Guppies 6 months to 2, Turtles ages 3-5, Seals ages 6-9 and Dolphins 10-12.
The academy had organized and planned activities through out the day.  The club does close for about an hour during lunch and dinner, but is open until 10:30 pm every night. Since my boys are 4 and 6 they were in different groups, though there was "free" play times when they could play together. However, most of every day is highly organized with games and different activities.  As well, every night was a different theme.  We saw a circus and pirate theme, spy night, survivor night, and more. As well all the staff would be dressed up and the academy was decorated for that nights theme.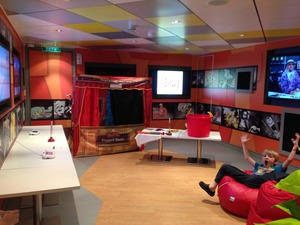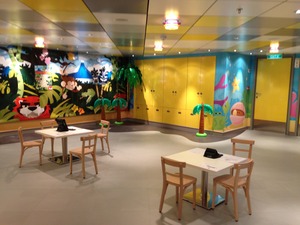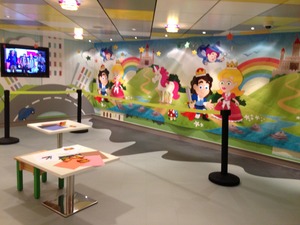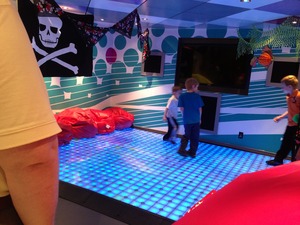 These photos are of the 1st floor of Splash Academy which is dedicated to kids 3-5.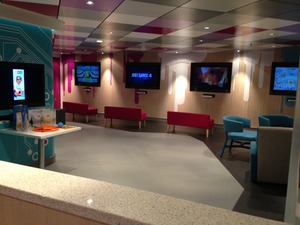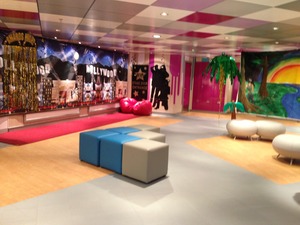 These photos are of the 2nd floor which is for the kdis ages 6-9 and 10-12.
Splash Academy is actually 2 floors and is located on decks 12 and 13.  Norwegian was smart to locate many of the Family Balcony cabins on these floors. It is nice to be close to the club.   Also, you can feel that your kids are safe and will not be wandering the ship as there is great security as well as a very secure check-in and out process.
On the first day you can visit the Academy to register your child and get their bracelet. Each child must have their bracelet to get in to the Academy. I recommend registering earlier in the day so you do not have to wait in a long line later when the Academy officially opens.  Splash Academy has the e-Youth tablet-based electronic registration system which makes check in and out very fast and easy.  To check the kids in and out you will use your key card, along with your child's key card and a personalized password to check the kids in and out.
On the final day of the cruise the kids put on a show with the Splash Academy Counselors. It was very cute.  Norwegian has a partnership with Hilario Productions Cirque du Jour, so they kids learn tricks they perform in the show.  As well there is a Family Circus Night which is a lot of  fun.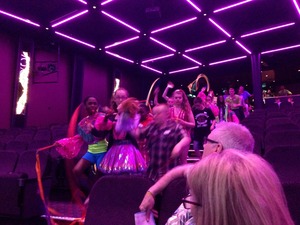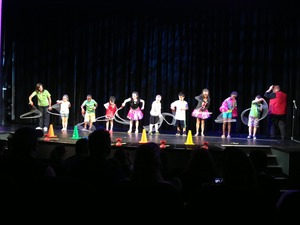 The kids have a parade in to the main theatre       Some of the kids learned rope tricks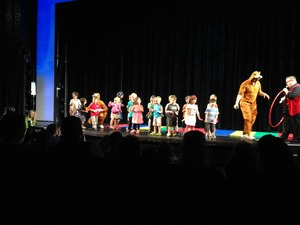 The little ones pretended to be animals in the circus,
sang a song. Here they are getting ready to jump through the hoop. So cute
Entourage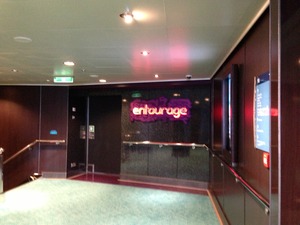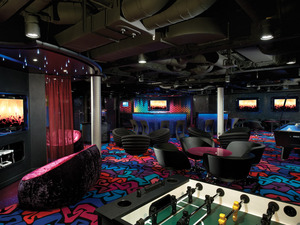 Entourage is located on Deck 16 and this this the "teen" club for kids 13-17.  This is an area for the kids to hang out and enjoy air hockey, foosball, as well as WiiU and Playstation. In talking to the staff there is talk of breaking up the kids in to groups 13-15 and 16-17.  I think this is a good idea.   As well at night, Entourage transitions in to a dance party. As well it is located right next to the Video Arcade and the Uptown Grill which offers sandwichs', burgers, etc. Up a few stairs and they have access to the sports complex, with mini-golf, basketball and the ropes course.  Norwegian did a great job of having so many options for the kids in this one area of the ship.
Guppies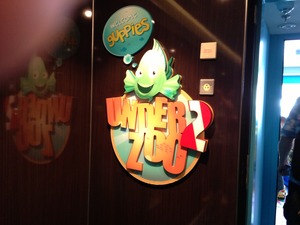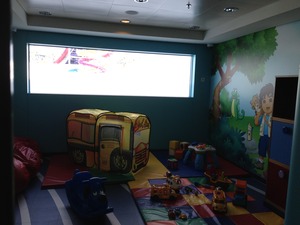 Located on deck 16 is the Guppies Under 2 Zoo, this is a play area for Mom and Dad to bring the little ones.  It is a nice playroom with toys, mats on the floor and more.  I have to say I think NCL missed the boat in offering more for the kids under 2. There is no babysitting or supervised time for kids 2 and under.  So it is a consideration when cruising with little ones.
Overall, I have to say I was very impressed with Splash Academy and all the kids activities opportunities the ship has to offer.  A great kids club program is one of the reasons I think cruising is a great vacation option for families.  The kids have a great time and it offers Mom and Dad an opportunity to have some alone time to relax as well.
Check back for additional blogs on all the other great entertainment, dining and activities that are available on the Norwegian Breakaway.